Picking Out Your Wedding Dress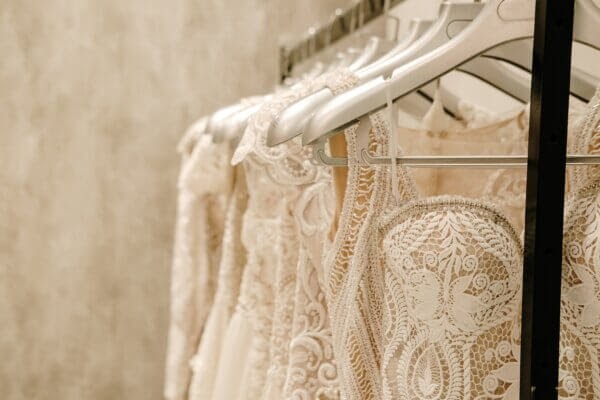 Deciding what you're going to wear on your wedding day is arguably one of the biggest decisions you will make in regards to your big day! While it can be stressful trying to just pick one dress, it's also so much fun to try on dresses to find what you love! We put together a step-by-step guide to how to pick out your wedding dress with as much ease as possible.
Before Buying
There are some things to think about before you actually go to buy your dress- Here are our guidelines for this!
Get Some Inspiration!
If you haven't had your wedding planned since you were 15 on Pinterest… You can start now! Shopping for a dress will be way easier if you already have in mind dress styles that you like! Take to Pinterest, Instagram, TikTok, or bridal magazines to figure out what style wedding dress you like! Once you've gathered your inspiration, figure out what is consistent among all of the dresses you liked. Do they have long sleeves? High neckline? Ball gown style? Thanks to technology, your algorithm on these sites will probably start putting dresses in similar styles to ones you like on your explore pages. Once you find the common thread, you have your foundation ready to search for your dream wedding dress!
Figure Out What Style Dress You Like
Here are some different styles of dresses to give you some ideas!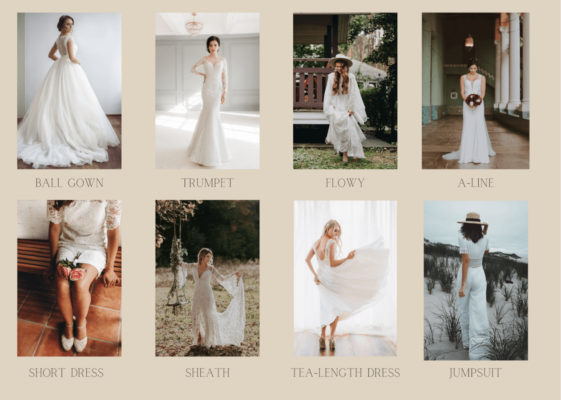 Set a Budget
Before you start thinking about shopping for your dress, you should probably set a budget for how much you want to spend. If someone is helping you pay for your wedding, it'd be a good idea to talk to them and decide on a budget. This will be helpful when you're shopping, because you'll know not to even bother trying on dresses that are out of your price range. Make sure to consider shoes, a veil, and jewelry when setting this budget.
Explore Different Buying Options
There are so many options when it comes to finding a place to shop for your wedding dress! Here are some recommendations based on what kind of dress your looking for:
Chain Store (David's Bridal, Wendy's Bridal) – These stores will have a wide range of sizes, styles, and prices. While they may not be the most unique dresses, you'll definitely be able to find something at these stores!
Local Boutiques (Dublin Bridal, La Jeune Mariee Bridal Collection, if in Columbus) – Local boutiques will often have designer dresses if your price range is a little higher.
Online Stores (BHLDN, Truvelle) – If you're looking for an extreme dopamine release, buy your dress online!
Thrift Shop (Goodwill, Bridal Consignment Shops) – Looking for a real bargain? Look up local bridal consignment shops and thrift shops and try your luck there.
Online Resale Shops (Poshmark, StillWhite) – This is also a great way to save some money! You may have to do more searching, but you definitely will be able to find something on one of these sites!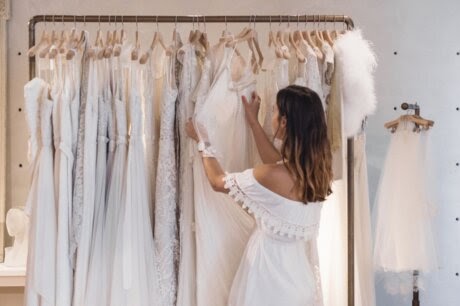 Buying Your Dress
Now that you're ready to buy your wedding dress here are some tips:
Bring Backup
When you decide to go shopping, make it easier on yourself by bringing a small group of people. Think about 2-3 people whose opinions you really value to bring with you, maybe your mother, your future mother-in-law, and your maid of honor. You'll want people there who will hype you up and help you find your dream dress- there's nothing worse than bringing someone who hates every dress you try on!
Dress Up a Little
A friend who's been married told me that when you go to try on your wedding dress, you should do your hair a little and put some makeup on, to give you a better idea of what you would look like in the dress on your wedding day! Bring a pair of heels with you as well, if you're planning on wearing heels on your wedding day. Also- wear plain undergarments!
Don't Rush Your Decisions
Don't feel like you have to pick a dress the first time you go shopping! After all, this is your dress! You may find something you absolutely love if you give some time between bridal appointments. This is a super important decision to make, don't let others rush you into making a choice you're not 100% about!
Have Fun with it!
Picking out your wedding dress can be stressful, but it's also so exciting! When you think about your wedding day, what you're wearing is probably the thing your mind goes to first, aside from your groom. Finding your dress should be a really fun experience! We hope that our tips are helpful to you and we wish you the best of luck!