Reasons Why You Should Take Engagement Photos
With so much planning on your plate, the last thing you probably want to do is to schedule another thing for you and your fiancé to attend, but we want to try and persuade you to take engagement photos! There are so many reasons why you should get engagement photos taken, and here are a few!
Celebrate Your Engagement!!
Getting engaged is a huge deal! It's one of the most important life events that you'll go through – and that deserves some celebrating! While you can definitely celebrate your engagement in a lot of different ways with a lot of different people, getting engagement photos taken is a good opportunity for you and your fiancé to celebrate in a more intimate way. Engagement photos don't have to be this whole event that is just another stressful thing to check off your list of wedding tasks. You can totally incorporate getting photos taken into a date night, and bring your photographer along to capture snapshots of your relationship! Whether you want to go on a beautiful hike, a peaceful picnic, or a romantic stroll through the city, you can easily bring your photographer along!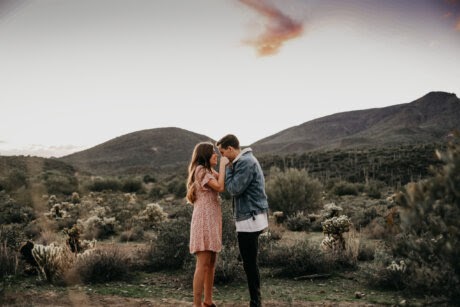 Get to Know Your Photographer
If you have your wedding photographer decided, schedule an engagement photoshoot with them so that you can get to know them before your big day! Taking photos on your wedding day will be way easier if you already have done a shoot with your photographer, and you'll learn to feel way more comfortable being yourself around them! Getting to know your photographer also means that they will get to know you, and they'll be able to figure out how to take pictures of you and your fiancé to showcase both of your personalities and to showcase your relationship!
Get Comfortable in Front of a Camera
Unless you're used to posing for a professional photographer, then this is a great opportunity to get comfortable in front of a camera! Engagement photos are way more casual than your wedding photos will be, so use this as an opportunity to practice different poses, figure out your angles, and learn how to act natural in front of a camera. Getting your photos taken can be awkward at times, and the last thing you want is for your wedding photos to be awkward, so it's a great idea to have a "practice round" of photos in a more casual setting!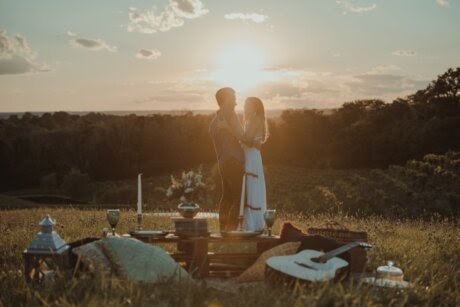 Incorporate Your Engagement Photos on Your Invitations
Show off your engagement photos on your Save-the-Dates and Wedding Invitations! Your friends and family will love to have your photo on their refrigerator, and you will love to send this out to them! There's no invitation more personal than one with you and your fiancé as the focus.
Bond with Your Fiancé!
Getting engaged is so exciting, but it's also stressful. If you're feeling the stress pulling at your relationship, take a break from planning and let someone else, AKA your photographer, take the reigns and tell you what to do for a couple hours! Like we said before, take the day and go on a fun date with your fiancé, bond with them, and let your photographer do the rest. These photos you take will be pictures you two will treasure forever!