Top 5 Ways to Entertain Wedding Guests
Although the main focus of a wedding day should always be the happy couple, it is not a bad idea to come up with some ideas to ensure that your guests are having just as much fun as you are on your big day! Below is a mix of fun and classy activities to have at your wedding to keep friends and family entertained amidst all wedding excitement!
1. Photo Booth
A photo booth never fails to be a big hit among guests at a wedding. Your friends and family will find themselves finally out of their everyday clothes and dressed up and looking their best in honor of the big day. The best way to capture this moment and give your guests a little something to remember the day by is a photo booth. Your guests will have a fun time snapping photos with old friends and have the pictures to ensure they never forget your big day!
2. Dessert or Snack Bar
A self-serve dessert or snack bar is a delightful way to engage guests and give them a little gift to take home even after the wedding has concluded. In between made-of-honor speeches and the first dance, guests can make their way over to a beautiful buffet of desserts or snacks and prepare themselves a to-go bag for the ride home or walk to the hotel. It is a classy and cute way to make sure your guests feel special and appreciated at your wedding.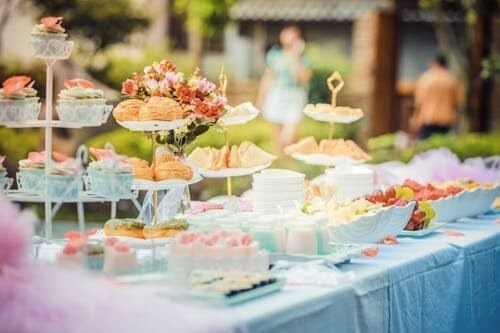 3. Karaoke
Karaoke is an extremely entertaining and fun activity, especially at any event where there is alcohol involved. It will encourage guests to hit the dance floor as they witness their best friends and family attempt another less-than-wonderful rendition of "Don't Stop Believing" by Journey. But karaoke never fails to bring a crowd together for laughter and song and this would make a great addition to any wedding.
4. Video Photo Montage
Nothing brings a crowd to tears like a photo montage of the happy couple with pictures from awkward middle school days to engagement photos. These videos are always a hit at weddings and it will have your guests laughing at the photo and misty eyes in the next. These videos encompass the essence of the couple's relationship and let the guests see them evolve as individuals before they tie the knot. It is definitely worth sifting through Grandma's basement for old photos in order to create this memorable video that the couple will cherish for years!
5. Wish Lanterns
If you are having an evening reception, wish lanterns are a beautiful and symbolic conclusion to any wedding. Guests can pick up a lantern and supplies to write their wishes for the happy couple when they arrive. Then, at the end of the reception, everyone can gather outside to light and release the lanterns with their wishes attached. This creates not only beautiful scenery, but also gets the guests involved in sending off the couple. It is a classy and meaningful conclusion to any wedding celebration and the guests will appreciate this anecdote for sure!